Past Events
Trapped in America's Safety Net: One Family's Struggle by Andrea Louis Campbell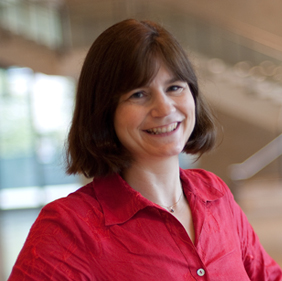 When Andrea Louise Campbell's sister-in-law, Marcella Wagner, was run off the freeway by a hit-and-run driver, she was eight months pregnant. She survived—and, miraculously, the baby was born healthy. But that's where the good news ends. Marcella was left paralyzed from the chest down. This accident was much more than just a physical and emotional tragedy. Like so many Americans—50 million, or one-sixth of the country's population—neither Marcella nor her husband, Dave, who works for a small business, had health insurance. On the day of the accident, she was on her way to class for the nursing program through which she hoped to secure one of the few remaining jobs in the area with the promise of employer-provided insurance. Instead, the accident plunged the young family into the tangled web of means-tested social assistance.
Andrea Louise Campbell is the Department Head and Arthur and Ruth Sloan Professor of Political Science at the Massachusetts Institute of Technology. Her interests include American politics, political behavior, public opinion, and political inequality, particularly their intersection with social welfare policy, health policy, and tax policy. She is the author of How Policies Make Citizens: Senior Citizen Activism and the American Welfare State (Princeton, 2003), and, with Kimberly J. Morgan, The Delegated Welfare State: Medicare, Markets, and the Governance of Social Provision (Oxford, 2011). She holds an A.B. degree from Harvard and a Ph.D. in Political Science from UC Berkeley.
Because of Sex: One Law, Ten Cases, and Fifty Years That Changed American Women's Lives at Work by Gillian Thomas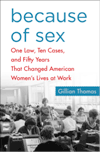 Please join NCCP on Wednesday, May 11, for a discussion of Because of Sex: One Law, Ten Cases, and Fifty Years that Changed American Women's Lives at Work with author Gillian Thomas (St. Martin's Press, March 2016, 272 pages).
An employment lawyer specializing in women's rights, Thomas looks at ten cases that have defined the fight for equality since the passage of the 1964 Civil Rights Act, which made it illegal to discriminate "because of sex." Among them is the Supreme Court's December 2014 ruling in Young v. United Parcel Service, Inc., vacating a lower court's decision against delivery driver Peggy Young, who sued UPS for putting her on unpaid leave owing to medical restrictions against lifting while she was pregnant.
Listen to NCCP Book Club discussion of $2 Dollars a Day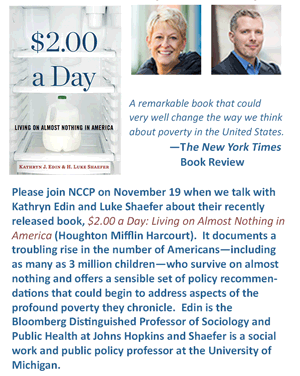 Listen to NCCP Book Club discussion of Hand to Mouth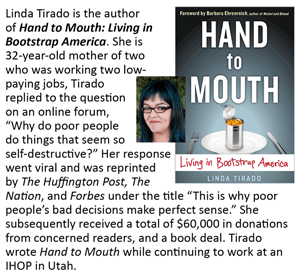 Listen to NCCP Book Club discussion of Squandering America's Future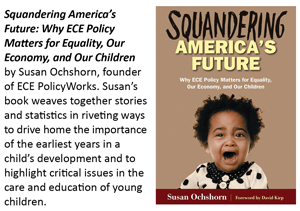 Listen to NCCP Book Club discussion of Just Mercy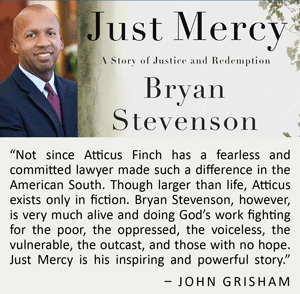 Listen to NCCP Book Club discussion of Gutters and Alleyways

Listen to NCCP Book Club discussion of Poverty in America